Biedenkopf Marktplatz, Day 1: Marianne Jeschke (d.8/2012) Ernst Frank at Grenzgang 1956.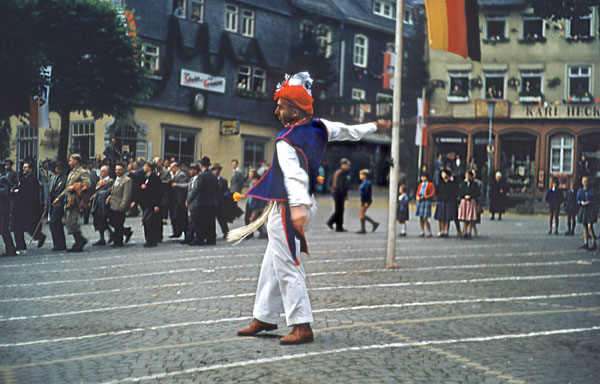 Wettlaufer am Marktplatz, Day 1 -- click to enlarge.
Hermann Wickenhöfer (above) and Theo Ochs were the Wettläufer,
and Ernst Hartmann the Mohr for Biedenkopf's "Grenzgang 1956".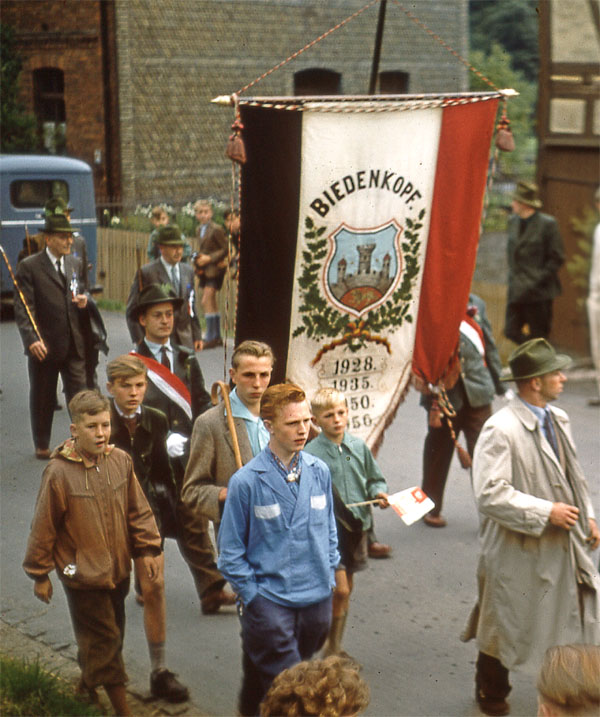 Marching out of town on Grenzgang Day 1 in 1956.
Click for full view.
I do not know the story of this sad house, stripped of its balcony (right, 2012) and all the people who lived there and decorated it in 1956 (left). Homes can stand vacant in Biedenkopf when no surviving family members live in the town anymore. If the home falls into disrepair and reaches the point where no one could live there even if they and the owners could arrange it, then the town faces a problem that is almost insoluble. At least one historic structure in the Altstadt is caught in such a dilemma.

-- Gilbert I. Nelson --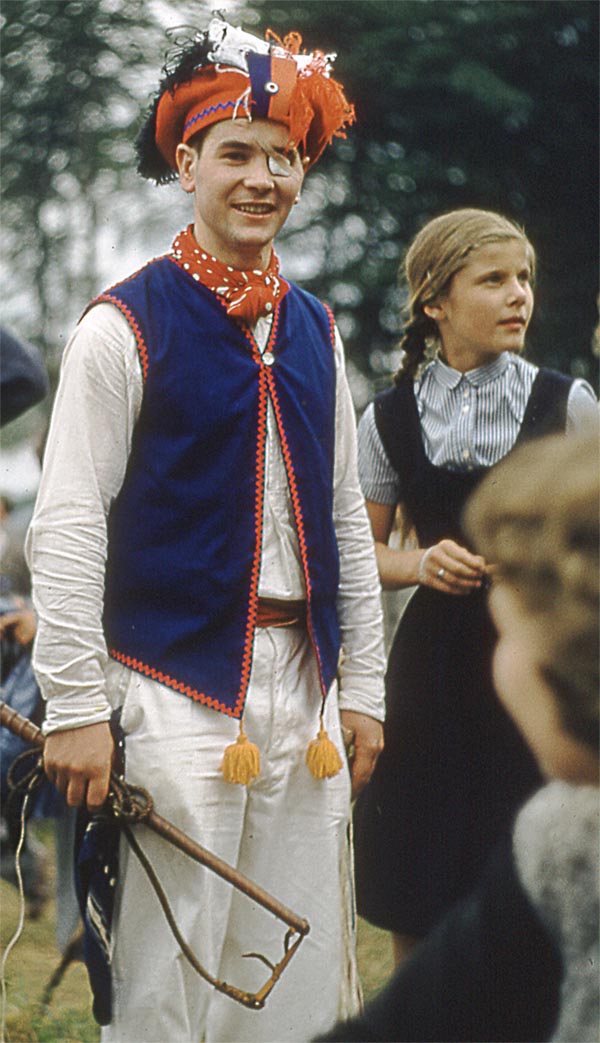 Theo Ochs, one of the Wettläufer in Biedenkopf's 1956 Grenzgang. (Click for full image showing Baron ____ , a nobleman owner of adjoining lands.)
The "Wettläufer" or competition-class runners, crack their whips to get the crowd moving on the long border-checking march.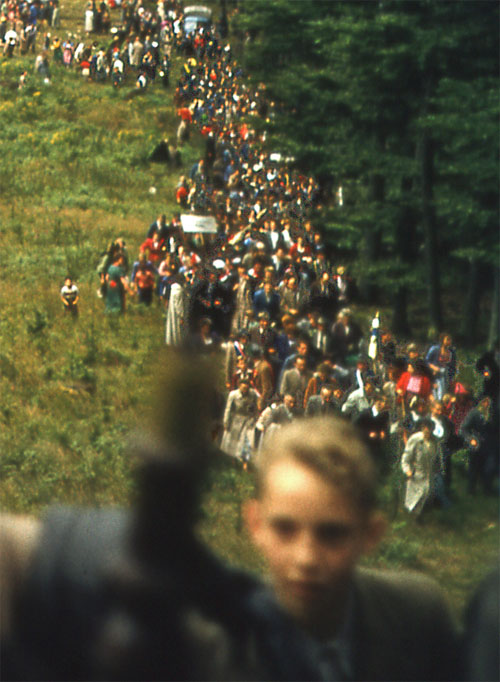 Click for full image.
Break's over, march the border, check the boundary markers!
We are climbing out of the Thälchens Triesch meadow in 1956, the last year (I think) that it was used for the first day's Frühstücksplatz.
The well-cared-for woods has several meadows, each big enough to hold the entire town for a picnic.
After 1956, the town used the Sackpfeife (bagpipes) meadow, further along this "Day One" part of the border . . .
and bigger too, because attendance is now around 20,000 people (2012),
far more than you'll count if you click for the full image here.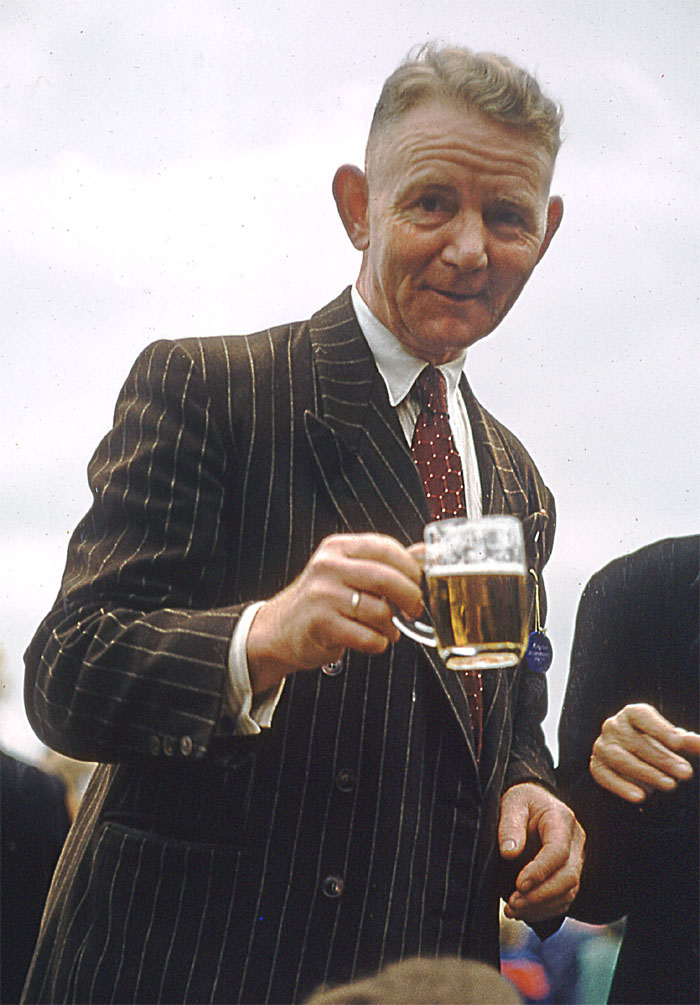 Grenzgang 1956, Frühstucksplatz 1. Tag: Herr Nägel.
In 1956, it was still possible to have cool, rainy days in mid-August (Germany's "west coast marine" type of climate). People in these photos are wearing jackets, overcoats, a white sweater.
Julius Caesar fingered the Germanic tribes as a future threat to The Empire, but, in 51BC, the behavior of these provincials was tribal. Clans marched around the woods in circles a lot, checking their borders. The Roman Empire came and went, the Middle Ages came and went, but in Biedenkopf, they're still checking the border. The banner says "the woods is ours" -- everybody's -- and everybody is there, at six in the morning, on the Marktplatz, on the trails, in one meadow after another, each one big enough to hold the entire town and anyone who once lived there.

Insects
never seen before
move to lands grown warm
er;
populations explode
when
no freeze checks overwintering adults
, eggs or spores;
drought-stressed trees
weaken,
storms
no one ever experienced topple them. Biedenkopf's families have drawn a border around a commons treasured for centuries, a commons that finally, after hundreds of years of vigilance, will be taken from them. The commons will be taken by others who never held anything close to heart but their own private wealth and manifest power to push others around -- people clearly superior to provincials with nothing better to do than march around the woods in circles.
This is Page 3: Old Photos - The 1956 Grenzgang in Biedenkopf, Germany
top of this page
return to
bottom of main page
& all the links ("Table of Contents")
MAPS
page
Liebe Leute! Bitte an jerry-va at speakeasy dot net Korrektur u. Verbesserungen schreiben.
Kann jemand irgend welche Teil übersetzen? Ich könnte es vollziehen, hätte ich von anderen den Anstoß. Beihilfe kann nur an bessere, ausgebreitete Redewendung, Ausdrücke, Wortschatz hinführen.
Danke.
Rev 13Aug2016, 27Nov2016,